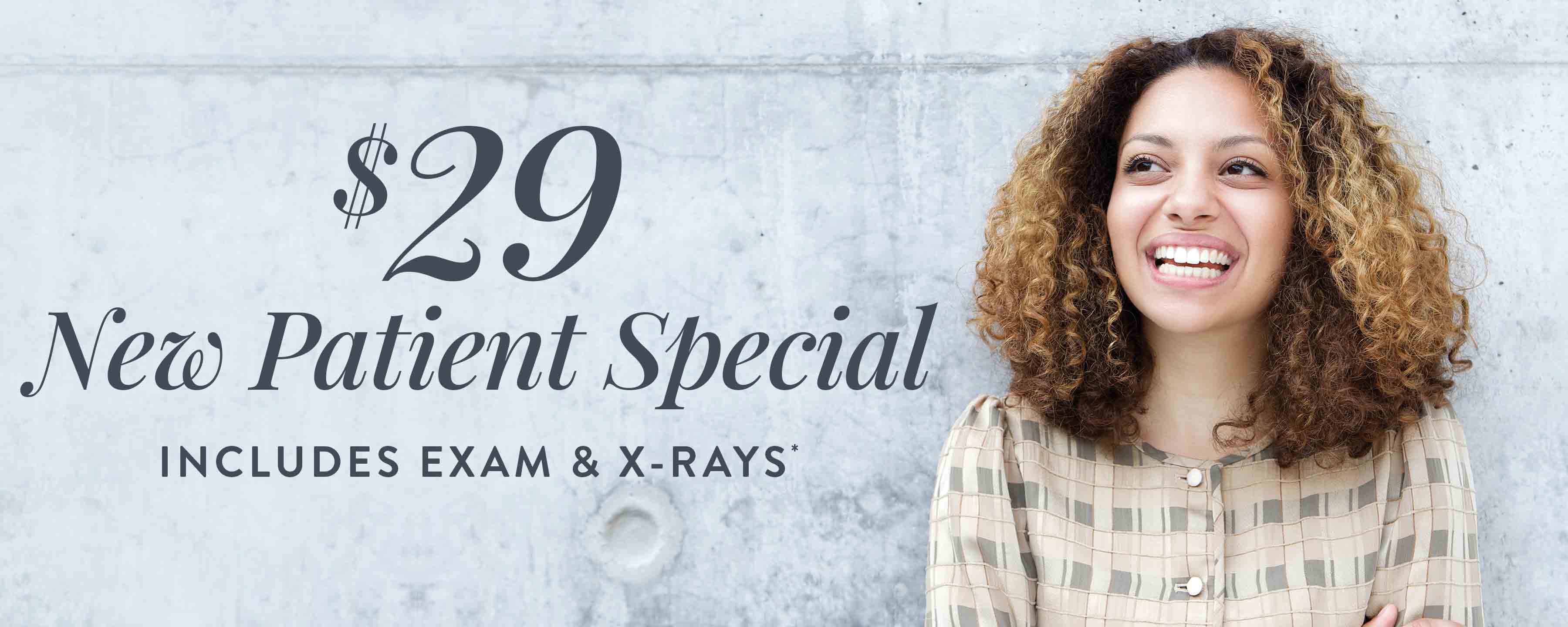 Includes comprehensive exam and X-rays.
Office Hours
Monday 8:00 AM – 4:00 PM
Tuesday 9:00 AM – 6:00 PM
Wednesday 9:00 AM – 6:00 PM
Thursday 8:00 AM – 4:00 PM
Friday 8:00 AM – 4:00 PM
CareCredit
CareCredit is a healthcare credit card designed for your health and wellness needs. Pay for the costs of many treatments and procedures through convenient monthly payments.
Our patients leave smiling


Excellent service and very nice:) THANKS!

Brandon



The staff is very kind & pleasant all the time during my visits even in distress, they handled my situation & made me very comfortable & that's every visit.

Tyrone B.



Treatment was flawless. Everyone was nice. I am referring my best friend.

April N.



This place is awesome! Super friendly staff and they make you feel at home. Also they will have you in and out in a heart beat. Highly recommended !!

Ricardo S.



Doctor's kind information

Daria S.



My hygienist is fantastic.

Michael D.



I received very good care the waiting time was Perfect and the service was also very good I would highly recommend their services.

Helen C.



Helena is an excellent hygienist: very thorough, intelligent, and patient with my questions.

Michael D.



Took care of my problem quickly and was very professional and friendly. Also was in no pain and I got 4 wisdom teeth extracted.

Nakeisha S.



Very welcoming

Stephen L.



Yes I would recommend this office to a friend or colleague. The staff is friendly and knowledgeable!

Sherry S.



Friendly, comfortable, provide explainations. Consistent service throughout years.

Julia G.



The dentist was, very friendly and explained to me everything that he was going to do. The staff was, also friendly. It was, a very comfortable experience.

Gloria H.



Friendly service, professionalism, and swiftness in dental procedure

Shuja M.



The staff was extremely accommodating and friendly!

Samantha K.



Hygienist was great

Sharnell H.



Good service good location and good hours. Friendly and competent staff.

Robert S.



Great staff

Brian K.



The 13th and Walnut location is perfect for people who work in Center City Philadelphia! As a Nurse I was able to fit my visits into my busy work schedule! The staff was friendly, professional and expeditious! They even had a clean-cut and visuslly appealing staff!

Marlon B.



The hygienist, Helena, was very caring and thoughtful and kind, and also thorough and diligent with her work! The work she did in cleaning my teeth and gums was wonderful! She truly cares about her patients!

Ronald C.