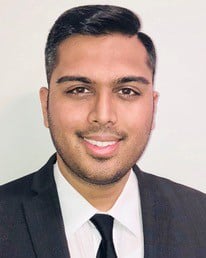 Dr. Shah is a well-educated, easy going, and compassionate general dentist committed to providing comprehensive dental care and creating long lasting relationships with patients. He focuses on treating patients with respect and takes extra time to understand their concerns, ensuring all of their dental needs are addressed.
Dr. Krunal Shah received his Doctor of Dental Surgery degree from the School of Dental Medicine, State University of New York at Buffalo in 2019. He recently completed a general practice residency program at the Philadelphia Veterans Administration Medical Center, where he refined his skills in all areas of dentistry including restorative dentistry, oral surgery, root canal therapy and implant placement.
After graduating from Drexel University in 2012, Dr. Shah used his Biology and Pathobiology training to coordinate Neurology research at Thomas Jefferson University and the University of Pennsylvania from 2012-2015. Dr. Shah has received numerous awards and honors during his career. He was born and raised in Long Island, New York where his family continues to reside.
Outside of the office, Dr. Shah enjoys spending time with his family, experiencing new restaurants, cooking, traveling, running and exploring Philadelphia.
Book Online Now
Complete the form below to book your appointment today.
Office Hours
Monday

8:30 AM – 5:00 PM

Tuesday

8:30 AM – 5:00 PM

Wednesday

8:30 AM – 6:00 PM

Thursday

8:00 AM – 5:00 PM

Friday

8:30 AM – 1:00 PM
CareCredit
CareCredit is a healthcare credit card designed for your health and wellness needs. Pay for the costs of many treatments and procedures through convenient monthly payments.
Our patients leave smiling


Great experience! Come over!

Felix A.



My experience at Dental Solutions was excellent. I'm terrified of going to the dentist and the last dental practice I went to was absolutely horrible. I needed to get 2 root canals, but my insurance company denied the pre-authorization and the practice I was going to had no idea how to file an appeal. After several months of waiting for them to file the appeal, my insurance company finally t…

AKA B.



Great place, always friendly and accommodating. The staff and doctors are wonderful.

Herviss1



The people who work in this office are beyond professional. They are warm, supportive, empathetic and so kind. Dr Ruggeri was great. I would recommend this dental team to anyone. It was a wonderful experience (as wonderful as the dentist can be ).

Stephanie D.



Great experience! Staff is wonderful !

Joe M.



My visit is always great with these guys, Danielle is the best!!!!!

Landon C.



Dr Ruggieri and dr Conti are amazing and Danielle Chrissy and Edna at the front are the best!!!

Carissa K.



Danielle gave great service and was very helpful scheduling my appointment quickly, I love dental solutions!

Alicia G.



Excellent service and staff, very accommodating to my needs. Highly recommend this office.

Tim W.



Love this place!!!

Michelle M.



Love dental solutions Danielle is the best! ☺️

Alison G.



Very friendly and accommodating

John C.



I recommend Dental Solutions Blackwood for any dental problems for children. My daughters experience with Dental Solutions was fantastic. She is not afraid of the dentist and they make children feel very comfortable. My daughter had teeth pulled and a crown. Thank you, Dental Solutions for the awesome job.

Daizsha S.



Dentist & staff are all very friendly, professional & comforting. I highly recommend Dental Solution for cleanings, exams, emergency services etc. I have been taking my 2 daughter here since they were young & my youngest has had surgical procedures done here and everyone was super great and helpful with keeping her calm and confident as well as my husband & I.

Debrah F.



Had my First appointment today, went very well. Staff was very friendly and nice. Thank you for everything, looking forward to having nice teeth again..see you sooon..

Nick S.



STAFF AND DENTIST WAS VERY PROFESSIONAL MADE YOU FELL AT EASE.

Cathy L.



friendly staff

Shannon G.



The best experience I have ever had at a Dentist. I would highly recommend this office.

Leslie H.



The best experience I have ever had at a dentist. I would recommend the office to everyone in search of a gentle caring Dentist.

Leslie H.



Very professional, courteous and caring!

Terri H.



Always a great experience.

Matthew T.



PROFESSIONAL AND HELPFUL MADE YOU FEEL COMFORTABLE.

Cathy L.



Fast and thorough

Nancy R.



Staff is very friendly and professional. Clean environment. Dr. Vu is a very caring and compassionate doctor.

Patricia L.



Very comfortable and the doctor and assistance was amazing.

Thomas G.



Almost no wait time and excellent friendly service by all.

Carol T.



Normally I hate going to the dentist the service here is by far the bet the receptionists there get you in and out as do the doctors everyone should go here

Kevin N.



Very helpful! I always enjoy my visits here! Staff is courteous and fast

Kumba M.



Great experience

Vincent D.



Just had my Quarterly Dental Cleaning by Liz. and it was a Breeze. Liz is so friendly and gentle but thorough. My wife and I actually look forward to our dental Cleanings thanks to Liz. Tony A.

Anthony A.



Dentist was very cordial and professional.

Cosmo S.



Well informed, friendly staff!

Carol T.



Mi hija está encantada con ustedes!!! Gracias!!!

Karina L.



I was in a lot of pain .the manager got me right in on a Friday afternoon. Thank you Dr ruggieri for get to. Me out of pain

Chris G.



Mi hijo me dice que ustedes son s?per buenos!!!

Benny L.



Friendly staff. Easy to get an appointment

Barbara B.



Was just a cleaning. Went well

Deborah P.



Great staff ..they really helped me to relax I was in excruciating pain and for a few mins I forgot all about it…

Renee B.



The staff is very friendly and welcoming. There is no long waiting. So, far my exprience has been amazing.

Jessica C.



liz is a great dental hygenist!!

Michele F.



Had a deep cleaning and it was great. So friendly and pleasant.

Jennifer B.



i am happy I have my smile back thank you Dr ruggieri

Leslie S.



This dental office is always a pleasure to visit from the front desk to Dr ruggieri

Anonymous



My daughter likes it here. The assistant was very friendly and patient.

Chelsea M.



Everyone was very friendly and efficient. I like dr. Ruggieri and, as someone who has had bad, painful dental experiences in the past, I can say I felt very confident in his expertise.

Carol T.



Excellent! Love Liz, always does. Great Job!

Louise. M.



I had my son in for a checkup. He has Autism and the dentist office can be very scary for him. Our dental assistant was amazing and so patient with him. I am so thankful for her patience and kindness!!!

Patrick G.



Danielle is the greatest!!! Always smiling and welcoming!!! Keep up the great work!!!

Kenneth B.



The office is great dr ruggieri is the best and Danielle Crissy and Edna are tye best at the front desk!!

Eric H.



dr vu is great my root canal was painless!! crissy and Danielle are the best at the front!!

Kim F.



I usually don't enjoy going to the dentist, but this place is awesome! The staff in the front are so kind and helpful and it continues throughout the whole facility. I will forever be a patient here, thumbs up to Dental Solutions!

Chrispizz476



It was a good experience. The dentist explained everything That was being done.

Deborah P.



Everyone was so helpful and friendly

Shannon G.



We have been going to Dental Solutions for years. Our hygienist, Liz, is awesome! The ladies at the recepist's desk are great & are willing to address any questions you have.

Anonymous



Really good job and friendly people.

Cosmo S.



This office is great. Staff is always friendly from Edna at the front, to Liz who does my cleaning, and Dr. Ruggieri. A loyal client from such great service!

Brian F.



Another great experience at Dental Solutions! Quick and easy thanks to a great team. Thanks Edna, Liz, and Dr Ruggieri!

Brian F.



I have never liked going to the dentist. I always had very bad experiences as a child and young adult. I was terrified when Ibfirst started to go to Dentall Solutions but I had no other choice. I needed deep deep cleaning from gum disease. I brushed everyday but unfortunately built tartar very easily. I do not even smoke. Needless to say I was terrified knowing I had to get deep cleaning and stayi…

Terri H.



love the people that work there

Danielle C.



Always a great experience

Estrella E.



Arrived for a teeth cleaning. Liz took me back before my appointment time. Was in and out in no time. Liz is very friendly, sweet and very professional and so are all the girls at front desk.

Anonymous



Great staff and service! My son and I love it there.

Justin L.



This was the first visit for my Husband and he loved the whole experience!! Highest Recommendations to Dr. John Ruggiere and his outstanding Staff at Dental Solutions!!!

Devone G.



They are always accommodating, pleasant, helpful with insurance. Definitely would recommend this place to anyone looking for a great dentist. Girls in the office are awesome.

Diane S.



Short wait time. Great friendly staff.

Anonymous



Best experience at the dentist office that I ever had The staff was unbelievable and the doctor did all the work in my mouth amazing and I would recommend this to anyone if you have to go to a dance I would recommend dental solutions

Thomas C.



Very professional and caring. Never have to wait long.

Ellen T.



Best Dentist around, had I'd gone to him sooner, I wouldn't need as much dental work.

Darlene H.



Dental Solutions is outstanding! The staff is very professional and helpful and Dr. John Ruggieri is amazing!!! I highly recommend this Dentist office and look forward to bring my family here.

Karin G.



I had to visit Dr. Conti the Periodontist . My visit was pleasant and fast. The ladies at the desk were friendly and polite. Dr. Conti was outstanding. So was his assistant. I was very nervous, but everyone reassured me, the procedure I was having done was not as bad as it looked and sounded.. They were right! Thank you for a good office visit.

Chad K.



The entire staff at dental solutions are Amazing!!!

Felicia C.



Everyone is polite and takes time with each patient answering all questions and/or concerns from dental issues to insurance issues…

Anonymous



The hygienist was very thorough and was very experienced. She even noticed a problem with my gum that the others had missed

Anonymous



Juanita set me and my wife up for appointments and cleanings. The office itself is very clean and for being new patients were​ in and out. Glad we switched.

Allen D.



Friendly, pleasant, yet professional. Painless procedure that was explained thoroughly. Teeth cleaning was great. My teeth and gums are still feeling so clean. Also I was taken in a timely matter.

Josephine F.



Very friendly and professional at the same time. Great dental work!

Stetson F.



The office is great and Danielle helped me so much with getting my medical clearance and getting my appointments scheduled

Diane A.



I absolutely love this office and all of the employees. They are like a second family to me and my boys. Thank you Danielle for all your great scheduling and help with anything we ever need. Wouldnt go anywhere else!!!

Melanie M.



As usual Liz was great. Her pleasant disposition is so catchie. It was great to see her again. She does a great job and that is what really matters.

Serafina R.



I have had a great experience at Dental Solutions Blackwood. I recommend it highly.

Tina H.