Posted under:
General
Posted on: November 17, 2020
Invisalign: Frequently Asked Questions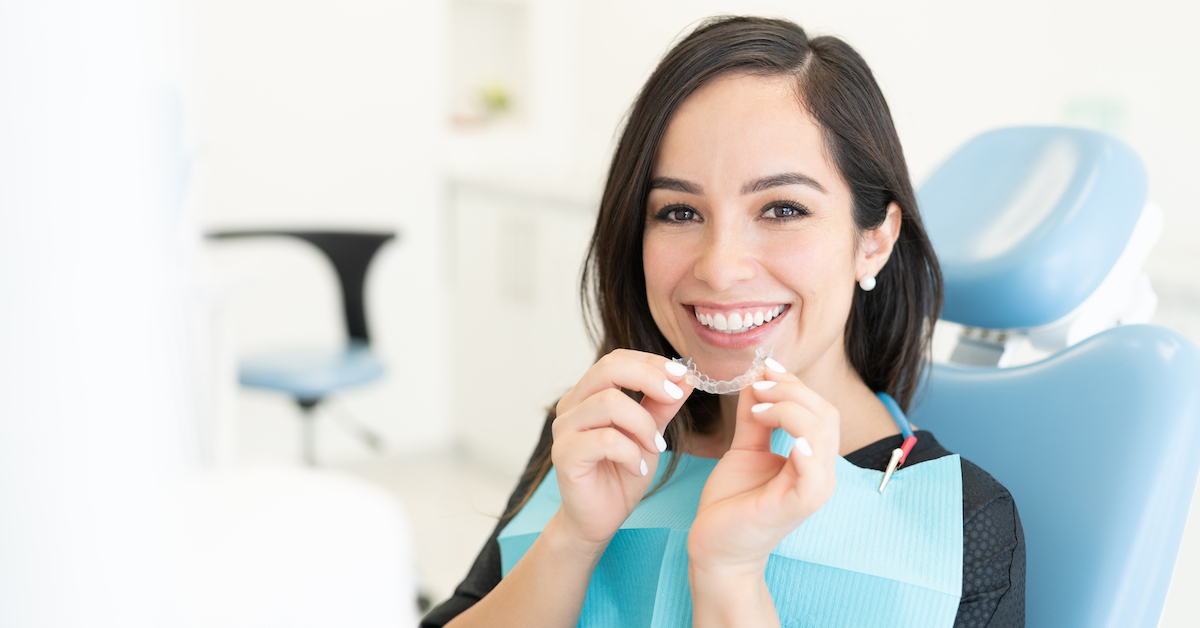 If your smile makes you feel older than your years, then the Invisalign clear aligner trays may provide the youthful rejuvenation you want. Beautifully aligned teeth can boost your self-confidence and your self-esteem, and you'll smile more often. Everyone knows that a beautiful smile makes you look younger, so if you're interested in learning more about Invisalign, then call our office for an appointment.
What Can I Expect From the Invisalign System?
The Invisalign system of clear aligner trays can achieve the same results as traditional metal braces, but the trays are virtually invisible, and they're vastly more comfortable. They can also be removed for short periods if you have an event such as a wedding or a job interview, as long as you wear them cumulatively for at least 20 hours each day.
The trays are made from SmartTrack® plastic, which is an extremely thin polymer that's FDA-approved, has no BPA or BPS, and is free of gluten and latex. The trays are ideal for those who want to have straight, even teeth but don't want to advertise the fact that they're wearing braces. They're considerably more comfortable because there are no metal wires or brackets to cut and chafe the delicate tissues in your mouth. An additional benefit for some people is that treatment time is shortened with the Invisalign system.
Is Invisalign Successful for Everyone?
Although most people are candidates for the Invisalign aligner trays, there are some exceptions, such as:
Small children and young teens aren't usually good candidates for Invisalign because their teeth and jaws are still growing and forming. They may also lack the skills and dedication to diligently wear their trays.
Those who are indifferent to the aesthetics of the wire-and-bracket braces, so invisibility isn't important.
Those who aren't dedicated to replacing the trays after they've been removed.
Although it's convenient to be able to remove the trays for important events, it's very important to replace them promptly. The trays won't work if you don't wear them at least 20 hours each day.
How Do I Know If I'm a Candidate for the Invisalign System?
Although most people can wear the Invisalign aligner trays, there are those for whom other types of braces will be more appropriate, including those who:
Smoke and aren't willing to quit.
Won't wear the trays at least 20 hours per day.
Are indifferent to the invisibility aspect of the Invisalign trays.
Lack the skills necessary to remove, clean, and replace the trays each day.
Have complex orthodontic issues.
Other than these restrictions, anyone who's a candidate for other types of braces should be able to wear the Invisalign trays. However, during your initial consultation, your Invisalign orthodontist will examine your teeth and gums to determine if the Invisalign trays will work for you to achieve the beautifully straight, even teeth that you've always wanted. If not, they'll recommend treatments that will achieve your goals.
What Happens During the Invisalign Procedure?
Although your Invisalign process will be unique to you, generally, we follow these steps when providing our patients with the Invisalign system.
When you come to the office for your initial consultation, your dentist will examine your teeth and gums to ensure that you're a good candidate for the Invisalign system. We'll go over the procedure with you, and if you decide to move forward with the Invisalign treatments, then we'll take an impression of your teeth and gums and use it to create the mold for your trays. You'll receive new trays every week or every other week; however, you'll only need to come into the office every four to six weeks to ensure everything is going smoothly. By the date of your first checkup, you should begin to notice minor results or movement. You'll continue to receive the replacement trays until your treatment is complete.
Will Invisalign Disrupt My Daily Routine?
Although you may need to make some minor adjustments in your habits, your trays shouldn't significantly impact your daily life.
You'll need to remove the trays when you eat or drink, or brush your teeth.
You'll still need to practice good oral hygiene so that decay and gingivitis don't develop under the trays. Not only will decay and gingivitis destroy your trays, but they'll also lengthen the time of your treatment, so be sure to maintain good oral hygiene.
If you smoke, then you'll need to quit – which is a good idea anyway – for at least the duration of the treatment.
You'll need to avoid chewing gum while you're wearing the trays.
Although the trays are comfortable, you may need a day or two to become inured to having them in your mouth. However, after you've become accustomed to their presence, you shouldn't have additional issues.
Are the Aligner Trays Really Invisible?
Appearance is generally the concern top of mind for many of our patients and is their primary motivator for selecting the Invisalign trays. Although someone who is in close physical proximity to you may notice the trays, anyone who is any distance from you probably won't notice them. People tend to see what they expect to see, so if they're not looking for braces or trays, they probably won't notice them. For very important occasions, you may opt to remove them, but you'll need to arrange your schedule so that you wear the trays at least 20 hours daily.
What Happens When I Finish My Invisalign Treatment?
When your treatment is complete, then you may need to wear a retainer for a while so that your teeth don't revert to their previous misalignment. Fortunately, you'll only need to wear the retainer at night and only for the time specified by your dentist or orthodontist.
Where Can I Locate an Invisalign Dentist in My Area?
All the dental professionals who offer Invisalign have been specially trained and educated in the process. If someone claims to offer Invisalign but lacks proof of their training, they're probably offering a substitute. Invisalign requires that all dental professionals who offer their aligner trays are trained in their specific system. If you want to get the Invisalign aligner trays to provide you with straight, even teeth, then call Dental Solutions at to schedule an appointment. We look forward to speaking with you and working with you, so call us today.