Posted under:
General
Posted on: April 21, 2022
Do You Need an Oral Surgeon?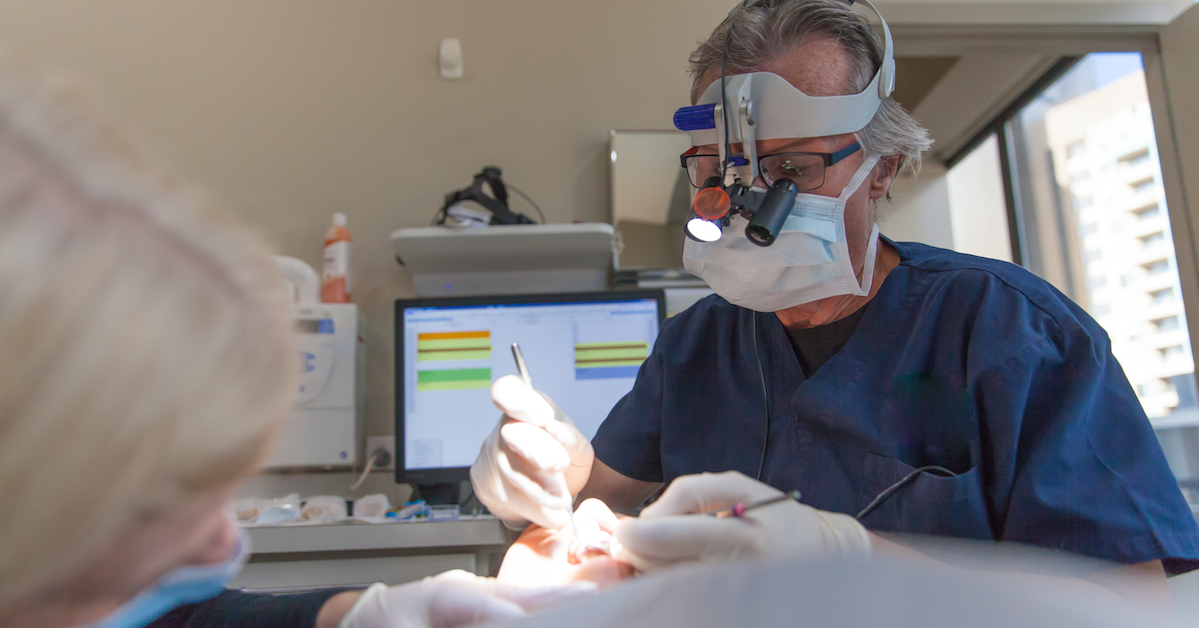 An oral surgeon has completed their general dentistry education in addition to four years of surgical residency in a hospital setting. Their areas of expertise include treating and repairing facial injuries such as a broken jaw or knocked-out teeth, performing cosmetic and restorative surgical procedures, treating TMJ issues, installing dental implants, and extracting impacted teeth, especially wisdom teeth. If your Philadelphia dentist refers you to a specialist, it may well be a referral to an oral surgeon.
Since oral surgery usually requires general anesthesia, it's often completed in a hospital setting. Oral surgeons are trained to administer all types of anesthesia, so your experience will be as painless as possible. General anesthesia is usually used for complex or extensive work that requires cutting into the soft tissues. If you require general anesthesia, you should arrange for transportation home after the procedure since you'll be unable to operate a motor vehicle.
Is Oral Surgery My Best Option?
If you have severe pain, such as an abscessed or impacted tooth, you don't need to continue suffering. Instead, an oral surgeon can alleviate your problems, and you'll soon be pain-free again.
Sometimes, the teeth don't erupt properly, so they become impacted and swollen. The resulting infection can permanently damage the teeth and gums in the area, so don't ignore severe tooth pain. It won't abate without professional treatment.
If you've had missing teeth for several years, implants may be the solution for you, and an oral surgeon can help determine if implants are right for you. The installation of implants is relatively simple, and they'll look and function the same as your natural teeth. However, you need to have adequate bone density, and you need to maintain good oral hygiene after they're installed. Otherwise, you can lose your implants just like your natural teeth. If you lack sufficient jawbone, your oral surgeon may be able to perform a bone graft.
What jaw-related problems can oral surgery fix?
An oral surgeon can fix the following jaw-related issues:
Ill-fitting dentures due to jaw irregularities, which can be painful or uncomfortable.
TMJ disjunction, or temporomandibular joint disorder, that can't be corrected through therapy or medication.
Improper jaw growth that inhibits eating, speaking, or breathing. This is usually due to jaws of uneven length.
What facial problems can oral surgery fix?
Facial irregularities can be problematic, but they can be fixed with oral surgery if the problem is due to:
Injury, such as broken bones or a fractured jaw
Infections that result in pain and swelling
Cleft lip or palate, which is a fetal developmental disorder that results in a split in the roof of the mouth or a gap in the upper lip, and can be repaired through oral surgery
Those who suffer from sleeping issues may also benefit from the services of an oral surgeon, especially when non-surgical methods have failed to produce a good night's sleep.
What Are the Before and After Surgery Tips from Oral Surgeons Available to Follow?
It's normal to feel some anxiety and apprehension about an upcoming oral surgical procedure. However, if you're prepared for the procedure and know what to expect, then it can alleviate some of your fears.
If you'll need prescription medications after your procedure, have them on hand before the day of the surgery. Alternatively, arrange for a friend or family member to pick them up for you on the day of your procedure. Don't be reluctant to discuss your concerns and anxieties with your dentist. They know that many patients are fearful of oral surgery, so they'll understand your anxiety. In addition, you may want to discuss your sedation options and other methods for distracting you during your procedure.
Do I Need Transportation?
After your oral surgery, you won't be able to drive, so be sure to arrange for alternate transportation methods. Your driver will need to accompany you to the procedure and remain until you've been transported home safely. Those with small children may need to arrange for child care assistance until they've sufficiently recovered to resume their everyday lifestyle.
Which Lifestyle Habit Changes Do Oral Surgeons Recommend?
Your oral surgeon will usually have specific guidelines for things you should and shouldn't eat and drink before your procedure, and this is especially true if you're having general anesthesia. If you don't follow the guidelines, you are at risk for vomiting or aspirating during the procedure. The precautions are for your health and safety, so be sure to follow their instructions carefully. Otherwise, your surgery may need to be rescheduled.
Avoid eating and drinking for eight hours before your procedure if you're having general anesthesia. If you're receiving a local anesthesia instead, you can eat a light meal an hour or two beforehand, but no more. Avoid smoking for 12 hours beforehand and at least 24 hours afterward. Wear loose, comfortable clothing to the appointment, and make sure you're not wearing contact lenses or jewelry.
What Are Recommendations for Diet and Comfort After Oral Surgery?
Usually, your oral surgeon will recommend a soft-food diet for a while after your procedure. However, if that doesn't supply the nutrients you need, consider meal replacement options like Boost, Ensure, or SlimFast. Also, plan a few days of rest, and be sure to report any unusual bleeding, pain, or swelling immediately. You may have developed a complication, and your oral surgeon needs to know that.
If you need to locate an oral surgeon, ask your family dentist to recommend one. If you don't have a family dentist, then ask your family doctor. Make an appointment with the oral surgeon beforehand so you know if you're comfortable with them, and be sure to check with your insurance company to determine the extent and scope of your benefits. This will also help if you have an emergency and need to go to the local hospital emergency room.