Posted under:
General
Posted on: April 30, 2015
Breaking News: Custom Mouthguards May Prevent Concussions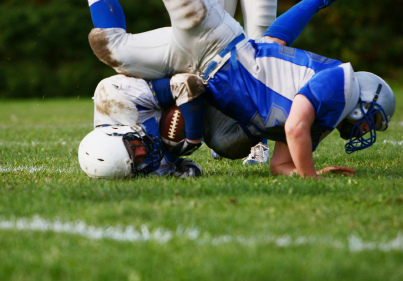 If you have a child involved in contact sports such as football, you are likely very familiar with mouthguards. These thin, plastic devices fit over the teeth and work by absorbing shock from contact to the face and head or falls during athletics. A majority of athletes obtain their mouthguards over the counter – from sporting goods stores or pharmacies. When boiled at home a mouthguard can be fitted to your teeth and used to prevent many forms of dental trauma. Some dental patients regularly wear mouthguards to prevent teeth grinding, clenching and other symptoms of TMJ. Others wear mouthguards to protect their costly dental restorations, such as veneers, from damage. An article just published in the journal, General Dentistry, indicates that football players wearing mouthguards custom fitted by their dentists cut their risk of concussion in half compared to those players wearing over the counter mouthguards. Maybe it's time to bring your athlete in for a fitting! Contact us to learn more today.