Posted under:
General
Posted on: July 9, 2020
Are Dental Implants Right for You?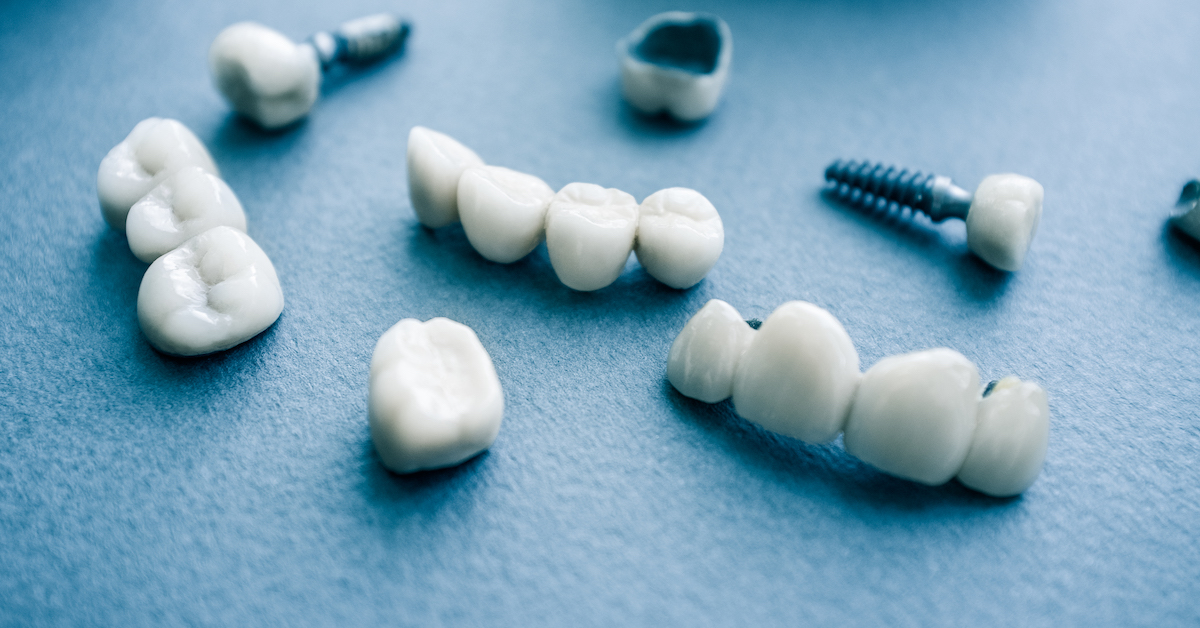 Statistics from the Centers for Disease Control and Prevention show that more than 50% of adults aged 20 to 64 have lost at least one tooth. More than 65% of those between 40 and 64 have lost one or more teeth. In addition, almost 20% of seniors over 65 have lost all of their teeth.
Dental implants might be a good solution for replacing your missing teeth no matter how you lost them, whether it was tooth decay, an illness or an injury. Your dentist will analyze your general, jawbone and gum health to determine if implants are right for you.
What Are Dental Implants?
Dental implants are a permanent solution for replacing missing teeth, and they function, feel and look like natural teeth. They're very appealing to people whose dentures or bridges are uncomfortable and those who want to maintain their bone structure.
Implants come in two types: endosteal and subperiosteal. Endosteal implants are inserted into the jawbone, while subperiosteal implants are placed under the gums and above the jawbone. With both types, there are three parts to tooth implants:
The body: Officially called a post, this part is screw-like in appearance and placed underneath the gum line. It's constructed of lightweight titanium, which is durable and almost never rejected by the body.
The abutment: Serving as a connector for the crown, this part sits just above your gum line and screws into the post.
The crown: Also called the prosthesis, this is the visible part of an implant and attaches to the abutment. It's created to match the shape, size and color of your original tooth.
Tooth Implants: How Do They Work?
The posts of tooth implants act as artificial dental roots by integrating with the jawbone and becoming a strong foundation for the crowns. Each post provides enough support to attach one crown, or several that are connected on a bridge.
What's the Procedure for Getting Dental Implants?
Among the many dental procedures available, dental implant surgery is one of the safest. It's typically performed as an outpatient procedure over the course of several stages and months. The reason is that the gums and jawbone have to heal between certain stages. If you require a tooth removal, for instance, your jawbone must heal before the post can be placed. You'll learn more about these stages before you start the implant process.
Having a Bone Graft
A bone graft could be necessary for you to get dental implants if you have a weak jawbone or have experienced bone loss. The graft will create a more stable foundation for the implant, improving the success of the procedure. It can be done using bone from another part of your body or a bone alternative that encourages bone growth. While a minor graft can be completed during the initial surgery, an extensive graft may take months.
Inserting the Tooth Implant
For your dental implant surgery, the dentist will make an incision in your gums to expose your jawbone. Then, a hole will be drilled into the bone, and the post will be inserted. Next, the dentist will close the surgical site with stitches so that it can heal. During the healing phase, your jawbone will grow around and bond to your implant, which usually takes several months.
Placing the Abutment
When the post is secure in your jawbone, the dentist will perform a minor surgery to put the abutment in place. This requires the gums to be reopened to expose the top of the post. Next, the gums will be closed around the abutment, with part of it remaining exposed. Then, your gums will be allowed to heal for a couple of weeks.
Setting the Crown
Once your gums have healed for the second time, impressions will be made of your mouth and natural teeth so that a crown can be made. Removable crowns snap onto the abutment and are removable for cleaning every day, while fixed crowns are permanently cemented or screwed onto the abutment.
What's to Be Expected After Tooth Implants Surgery?
Like with any type of dental surgery, you're likely to experience minor bleeding, pain, swelling and bruising after the dental implant procedure. To manage the pain and swelling, your dentist may prescribe medication and provide instructions or other healing aids.
Do Dental Implants Have Benefits and Drawbacks?
When you need to replace missing teeth, tooth implants are an excellent choice. Despite their many advantages, they do have some disadvantages that you should consider.
The Benefits
Comfort: Since tooth implants become one with your jawbone, they provide a level of comfort that conventional dentures can't match.
Convenience: Implants eliminate the need for adhesives because they're permanent.
Improved Speech: Implants are designed to stay in place and fit perfectly so that it's easy to speak clearly.
Natural Appearance: Implants impressively resemble real teeth because they're customized for each person.
Optimal Dental Health: Your dentist won't need to alter your existing teeth for implants, and you can floss and brush them as usual.
Durability: Implants can last the rest of your life with good dental hygiene.
The Drawbacks
Cost: A single implant could cost thousands of dollars, which might not be covered by your dental insurance. However, it can be made more affordable if your dentist offers a payment option.
Surgery: There are always risks with surgical procedures, such as tooth damage, nerve damage, jaw fractions, infections and complications. Also, anesthesia can cause adverse reactions in some people.
Future Expenses: Implant crowns sometimes require replacements, which could be costly and not covered by insurance.
Time: In general, completing the tooth implant process can take several months.
What Can Local Dentists Do to Help?
In order to perform the dental implants procedure, specific training and education is required. Dentists must be able to accurately evaluate your jaw viability and density to determine if it can support implants before inserting them. Finding a trusted, board-certified expert who has these credentials is important.
Our dental office provides compassionate, affordable dental care and offers many services, including as dental implants. Contact us today to schedule a consultation.